What is better to have for breakfast in summer than a cold, refreshing yoghurt bowl, topped with delicious and colourful fruits. I think summer/spring is the perfect time to get creative with your breakfast's, and yoghurt bowls are a great way to do that, all while keeping it pretty quick and simple! All you need for the bulk of the meal is yoghurt, and then you can add your favourite toppings, and tailor the breakfast to your liking!
So here, I am going to show you three of my favourite yoghurt bowl toppings to get the ball rolling and give you some new and fun breaky ideas!
The Base
For me personally, I like to use plain greek or vanilla yoghurt as the base of my yoghurt bowls and then go hard on all of the toppings, to add different flavours. But, you can absolutely use flavoured yoghurts as the base of the bowls, or even stir through some defrosted frozen berries into the yoghurt to create a marbled look and taste.
The Toppings
The Tropical Bowl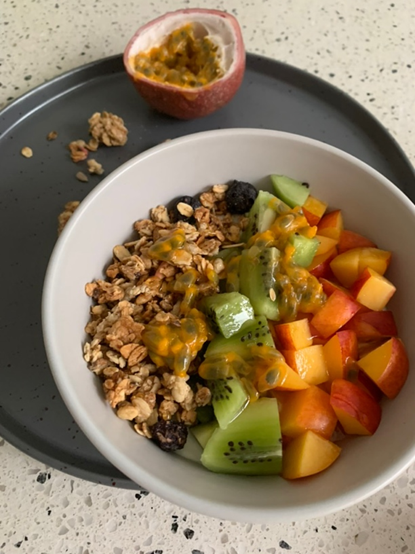 For this bowl I added lots of tropical fruits to boost the flavour and colour of the bowl. I used nectarines, kiwi fruit and passionfruit pulp, however adding mango to this bowel would also be a great addition to top off the tropical fruits! I also added some granola and honey over the top to add some extra crunch and sweetness to the bowl. So here is the recipe below!
Ingredients:
A few spoonful's yoghurt
1 kiwi fruit
1 nectarine
½ passionfruit pulp
Granola (enough to cover half of the surface of the yoghurt)
Drizzle of honey over the top!
The Berry Bowl
This one is definitely for the berry lovers out there. I topped this bowl with the three most classic berries: strawberries, raspberries and blueberries, but you can really use any kind of berries you like best! And of course I added some granola and honey for the extra crunch and sweetness.
Ingredients:
A few spoonful's of yoghurt
Strawberries
Blueberries
Raspberries
Granola
Honey
The P&B Bowl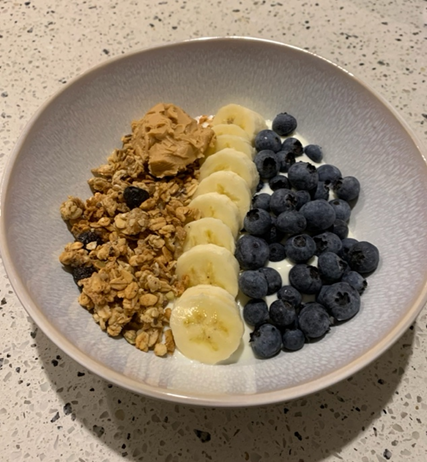 The peanut butter adds some creaminess and richness, but is still perfectly balanced by the addition of the banana and blueberries to add some freshness and the granola for some crunch!
Ingredients:
A few spoonful's of yoghurt
1 Banana
Small handful blueberries
Granola
Peanut Butter
Love these recipes? We have heaps more available right now in our Member's Hub! Click here for instant access.