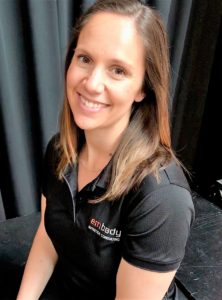 Nicola Jaffrey
Hi there! Firstly, thanks for checking out the site and reading a bit more about Embody Nutrition.  I started Embody back in 2013 after graduating from University and it's been a crazy ride ever since. In that time, I have also been lucky enough to have 2 beautiful (wild) boys who keep me very busy, but I have been so fortunate to be able to start a family and business, all at the same time.
I guess I didn't really know I wanted to work in the field of nutrition until I started Uni (I did one year of nursing before switching into Nutrition Science). Even then I still wasn't 100% sure that being a dietitian was for me… until I found sports nutrition. The more I learnt and read (lots and lots of reading) about sport nutrition, the more I knew that it was exactly the area that I wanted to work in. So once I completed my Masters of Science in Nutrition and Dietetics, I started on a path to specialise in this field and I have never looked back.
My own sport of choice has always been dancing. I have been dancing since the age of 6, began teaching at 16 and I still teach at the same dance school today! My family (3 brothers, my Dad and my husband) were all entrenched in rugby league – they still are actually – so that has been another big sport in my life. One of my career highlights to date was being the Sports Dietitian for the St George Illawarra Dragons for the 2016 season, and getting to experience and work within rugby league at the top level.
Alongside working for myself, I have also been really lucky to have a few little side projects to complement my work in nutrition. In addition to my dance teaching, I teach at the University of Wollongong in the Bachelor of Science (Nutrition) course and more recently in the School of Health and Society. All of these things combined keep my work life really interesting and challenging, which makes it quite fun and definitely never boring.
So that's about it when it comes to me personally, but keep reading for more about how things are done at Embody Nutrition.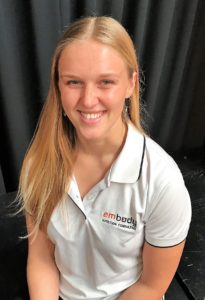 Ellie Wiltshire
Hi all! My name's Ellie and I am Accredited Practicing Dietitian and Sports Dietitian. I grew up in the country town of Orange, and since moving to Wollongong to study at the university I have stayed put (with a big love for the east coast of Australia).
A little bit like Nicola – I wasn't sure I wanted to study nutrition until I started uni (I did half a year of environmental science), but I think I partly knew I wanted to study nutrition all along. I have always loved science, learning about the workings of the human body and good food.
I love working in private practice, as it gives me the opportunity to get to know people, and make a meaningful difference to their lives! While I enjoy working with various people and conditions, I have a particular love for sports nutrition and gut health, both of which are such interesting and exciting areas of development in the nutrition field. I am also big for sustainability in our food system, and enjoy learning more about what we can do to reduce our food-related footprint.
Experience wise – I also work clinically in a South Coast hospital, and had the pleasure of being a dietitian intern for the GWS Giants in 2018. In my free time, I love being outdoors, long walks, surfing (attempting) and eating out (too much).
Our Approach
It sounds very cliche, but when it comes to nutrition (particularly sports nutrition), there is no one approach that will work for every single client. Nutrition advice needs to be individualised to meet the needs of the client, and this is the whole premise behind the work we do at Embody. We want every client to leave their session with a plan of action and knowing exactly what they need to do to achieve it. For some people, this may include a whole nutrition plan and for others it may just be one or two focus areas to work towards.
The clientele at Embody includes a whole range of athletes, from junior to masters, active individuals to elite, as well as sporting teams and clubs. Our areas of specialty include manipulation of body composition (including increasing muscle mass, fat loss, bodybuilding preparation and cutting to make weight), weight management (including support through the behaviour change process, which can be really difficult to undergo alone) as well as management of chronic disease or illness in conjunction with your training or exercise. Read more about Embody Nutrition Consulting services.
The road to achieving your desired goals may not always be straight forward, but our aim is to not only provide you with the education you need to get there, but to be the support that you need along the way.