It's no secret that protein is an important nutrient for athletes but it can be something that people find really hard to eat enough of. Including a source of protein with your main meals AND snacks can be crucial to ensuring that requirements are met. Does this mean you need to be having supplements left, right and center? Absolutely not (although they can be helpful for some people). There are lots of great higher protein snack options that you can include to help bump up your intake.
It's important to note that athletes often have higher protein requirements compared to the general population, due to their high intensity training schedules. It is recommended that the general population eat between 1-1.5g/kg/day of protein, however the recommended intake for athletes is 1.6-2.2g/kg/day.
In order for athletes to meet these higher requirements, it is important that they consume an adequate source of protein (usually aiming for 20-40g on each occasion) at least four times per day – breakfast, lunch and dinner as well as 1-2 snacks throughout the day. Having smaller amounts of protein more regularly is known to optimise muscle protein synthesis, ie. Building muscle. Eating smaller protein sources throughout the day also helps to keep you fuller for longer.
Here are some great ideas for some high protein snacks! They include some store bought options as well as a few that you can put together and make at home. We've also included some key nutrients in each of these snack ideas, so you can compare them yourselves. Take note that some athletes may need to eat a combination of protein sources at each meal/snack in order to meet their requirements.
Yoghurt
Chobani FIT Vanilla High Protein Yoghurt
Serving Size: 170g
Cost per serve: $2.25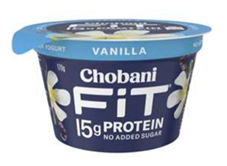 | | |
| --- | --- |
| Energy (kcals/serve) | 96.0 |
| Protein (g/serve) | 15.5 |
| Carbohydrate (g/serve) | 7.4 |
| Sugar (g/serve) | 5.1 |
| Sodium (mg/serve) | 64.0 |
| Dietary Fibre (g/serve) | 0.1 |
Yopro High Protein Strawberry Greek Yoghurt
Serving Size: 160g
Cost per serve: $2.40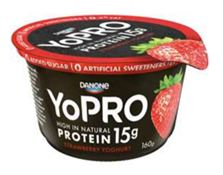 | | |
| --- | --- |
| Energy (kcals/serve) | 94.0 |
| Protein (g/serve) | 15.4 |
| Carbohydrate (g/serve) | 6.6 |
| Sugar (g/serve) | 5.4 |
| Sodium (mg/serve) | 66.0 |
| Dietary Fibre (g/serve) | 0.0 |
Protein Bar
Musashi High Protein Bar Milk Chocolate Brownie
Serving Size: 90g
Cost per serve: $5.00

| | |
| --- | --- |
| Energy (kcals/serve) | 337.0 |
| Protein (g/serve) | 45.5 |
| Carbohydrate (g/serve) | 3.1 |
| Sugar (g/serve) | 2.3 |
| Sodium (mg/serve) | 172.0 |
| Dietary Fibre (g/serve) | 0.1 |
Carmen's Gourmet Protein Bars Dark Choc & Cranberry
Serving Size: 40g
Cost per serve: $1.40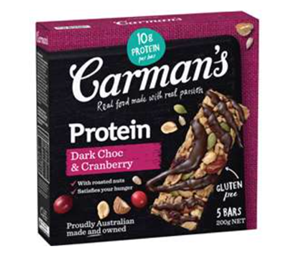 | | |
| --- | --- |
| Energy (kcals/serve) | 197.0 |
| Protein (g/serve) | 10.5 |
| Carbohydrate (g/serve) | 13.4 |
| Sugar (g/serve) | 9.2 |
| Sodium (mg/serve) | 52.0 |
| Dietary Fibre (g/serve) | 2.6 |
Sam's Pantry Caramel Brownie Low Sugar Protein Bars 5 pack
Serving Size: 1 bar (38g)
Cost per serve: $0.60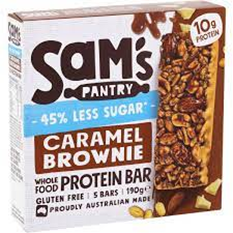 | | |
| --- | --- |
| Energy (kcals/serve) | 183.0 |
| Protein (g/serve) | 10.0 |
| Carbohydrate (g/serve) | 11.2 |
| Sugar (g/serve) | 4.8 |
| Sodium (mg/serve) | 127.0 |
| Dietary Fibre (g/serve) | 2.4 |
Cereal & Milk
Kellogg's Special K High Protein Breakfast Cereal with Full Cream Milk
Serving Size: 1 Cup cereal (67g), 1 Cup (250ml) Milk
Cost per serve: $1.50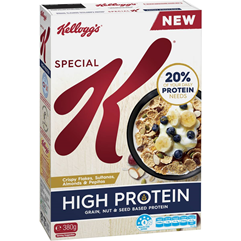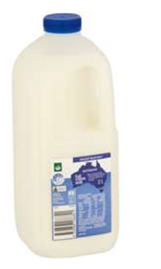 | | |
| --- | --- |
| Energy (kcals/serve) | 428.3 |
| Protein (g/serve) | 22.4 |
| Carbohydrate (g/serve) | 51.9 |
| Sugar (g/serve) | 19.5 |
| Sodium (mg/serve) | 290.0 |
| Dietary Fibre (g/serve) | 3.2 |
Chocolate Pudding
Wicked Sister High Protein Chocolate Pudding
Serving Size:170g
Cost per serve: $2.50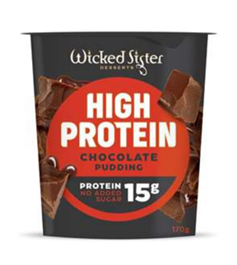 | | |
| --- | --- |
| Energy (kcals/serve) | 178.0 |
| Protein (g/serve) | 16.2 |
| Carbohydrate (g/serve) | 11.0 |
| Sugar (g/serve) | 9.0 |
| Sodium (mg/serve) | 154.0 |
| Dietary Fibre (g/serve) | 0.0 |
Chicken Sandwich
Primo Pulled Chicken on Wonder White Hi Fibre Sandwich Slice Bread
Serving Size: 100g chicken, 2 slices of bread (74g)
Cost per serve: $4.94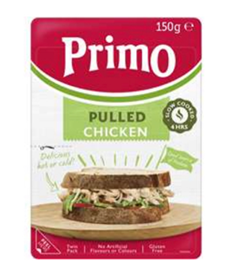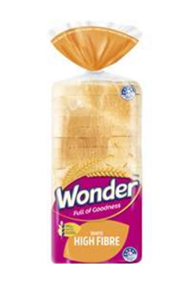 | | |
| --- | --- |
| Energy (kcals/serve) | 325.9 |
| Protein (g/serve) | 28.4 |
| Carbohydrate (g/serve) | 32.2 |
| Sugar (g/serve) | 3.5 |
| Sodium (mg/serve) | 833.3 |
| Dietary Fibre (g/serve) | 6.0 |
Tuna on Corn Thins
Green seas Tuna in Extra Virgin Olive Oil Blend on Real Foods Corn Thins Original
Serving Size: 1 tin tuna (70g), 6 corn thins (36g)
Cost per serve: $2.68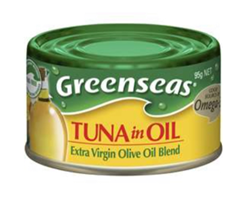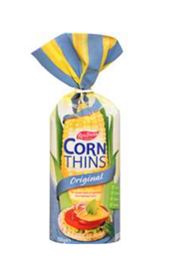 | | |
| --- | --- |
| Energy (kcals/serve) | 242.5 |
| Protein (g/serve) | 20.4 |
| Carbohydrate (g/serve) | 25.6 |
| Sugar (g/serve) | 0.1 |
| Sodium (mg/serve) | 424.0 |
| Dietary Fibre (g/serve) | 1.8 |
Eggs on Toast
Extra Large Free Range Eggs on Wonder White Hi Fibre Sandwich Slice Bread
Serve size: 4 eggs (208g), 2 slices of toast (74g)
Cost per serve: $1.86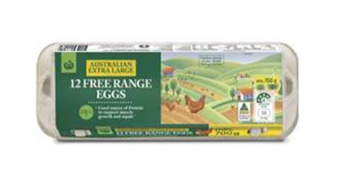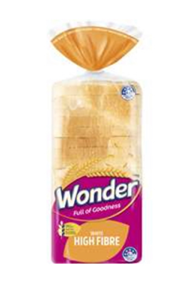 | | |
| --- | --- |
| Energy (kcals/serve) | 470.8 |
| Protein (g/serve) | 31.5 |
| Carbohydrate (g/serve) | 32.2 |
| Sugar (g/serve) | 2.6 |
| Sodium (mg/serve) | 542.0 |
| Dietary Fibre (g/serve) | 6.0 |
Baked Beans on Toast
Woolworths Baked Beans in Tomato Sauce on Wonder White Hi Fibre Sandwich Slice Bread
Serving Size: 2/3 can of beans (200g), 2 slices of toast (74g)
Cost per serve: $1.01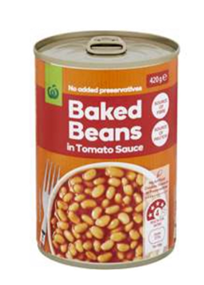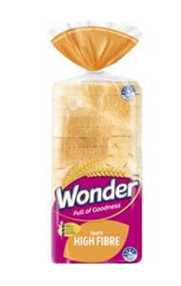 | | |
| --- | --- |
| Energy (kcals/serve) | 386.7 |
| Protein (g/serve) | 18.9 |
| Carbohydrate (g/serve) | 63.1 |
| Sugar (g/serve) | 12.6 |
| Sodium (mg/serve) | 980.0 |
| Dietary Fibre (g/serve) | 14.4 |