Each month, we will be hosting a group coaching session within our Facebook Group and posting the notes here for your reference.
QUESTION 1
So what do we look at on the nutrition panel? I've currently got two Carmen brand bars. Fruit free muesli bar on the left and the more yummy salted caramel nut butter on the right. Total carbs is better with salted caramel (not much difference in sugars). Total fat 7g better in fruit free and 130 difference in kJ. For weight loss which should I look at and is the difference enough to make an impact anyway?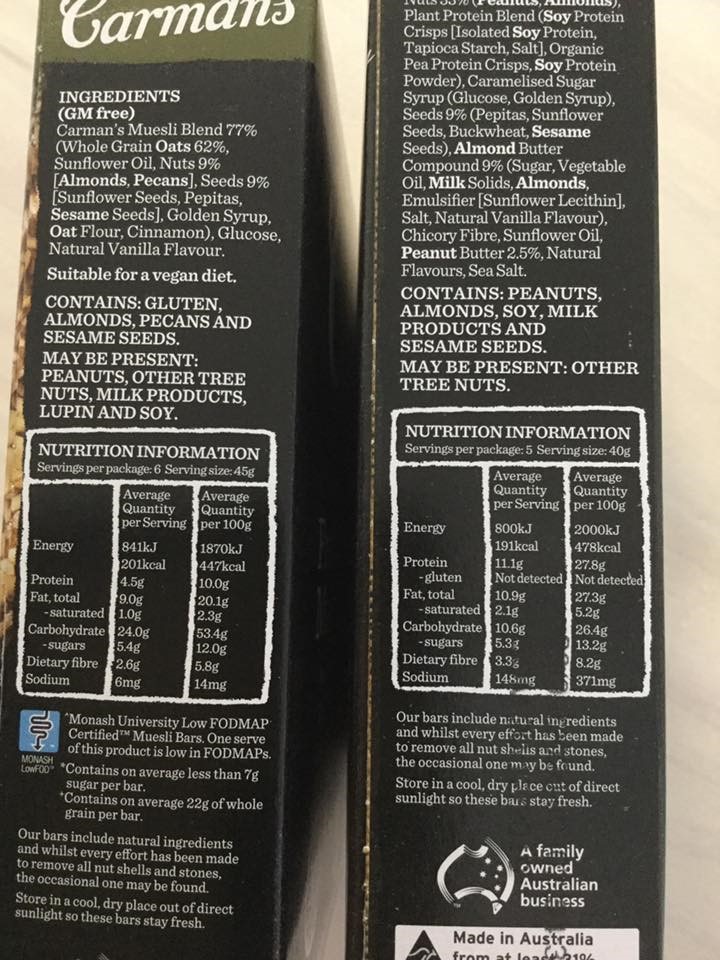 For weight loss, the main player is total energy of the diet (calories or kilojoules).
There is not much difference in energy between the 2 bars so it won't make a huge difference which one you choose
Carbohydrates are higher in the fruit free bar – may be a good option pre and/or post exercise
Protein is higher in the nut bar – may be more filling and satisfying and help to reach your overall protein goals
Your personal preference is also really important!
Grab our free label reading guide HERE
QUESTION 2
Wondering if you have any healthy slow cooker recipes for winter season. Also cheap nutritious meals and simple things older kids can cook (for me 😉)
Slow cooker
Slow cooked beef from the Fuelling to Thrive eBook (you can grab it from the website if you don't have it already!) is an absolute winner – I make it every week without fail!

Can serve in wraps, on nachos, pasta, mash potato etc

Also use slow cooker to cook meat a lot

Leg of lamb
Chicken to shred for dinner or lunch meat
Roast beef

Slow cook casserole or lamb shanks – just with veges, tinned tomatoes, maybe some paprika etc no recipe here!
I am in a FB group called Slow Cooker Recipes Australia – lots of ideas
Cheap nutritious meals
When we talk about building a healthy meal – we talk about 3 key components that need to go on the plate… protein, carbohydrates + colour (fruit / veg). We can touch on each of these with a few of our favourite examples of cost-effective foods you can use to build a meal.
Protein
Eggs – complete protein, super versatile and economical.
Legumes – protein, fibre and so cost-effective – 80c for a large tin (also count for veg!)
Whole chook – around $6.50kg, cheaper way to feed a family or yourself for the week.
Tinned fish – sandwiches, pasta, snacks.
Carbs
Rolled oats – $1 something for a bag will do you breakfast for 1-2 weeks.
Rice / pasta – in bulk will be cheaper, though microwave is convenient.
Vegetables
Frozen/canned just as nutritious as their fresh counterparts – great when you're feeling lazy or to bulk out your fresh veg.
Look for seasonal produce – grown in Aus and compare the price e.g. go for apples over pears if they are cheaper. Green Grocers – e.g. Leisure Coast – cheaper.
Also frozen fruit great option.
Some of my favourite cheap meals = Chilli w. tinned kidney beans + corn + tomatoes w. taco mix OR eggs (omelette/scrambled) w. toast + veg OR chickpea curry OR fried rice w. frozen veg and eggs OR whole chook and roast veg OR veg and legume soups.
All really easy things to cook too.
7 Budget-Friendly Healthy Recipes:
Slow cooker – Tikka Masala
Things older kids can cook
Burrito bowls – throw together any combo of things from the fridge
Wraps, homemade pizza – homemade flat bread (yoghurt and flour)
Teach them basic meals (spag bol, tuna bake, chicken pie, stir fry etc) that they can master which will set them up for life after home too!
Find recipes together that they like the look of – get them interested in finding new recipes.
Make sure you check out the video HERE!