It can often be difficult to read between the shopping aisle lines when choosing a snack option for the week. Whether it be to fill the kids lunch boxes, to have on hand between dance drop off and footy pick ups or for yourself when that sugar craving hits at 3pm. Luckily, we're here to help you decipher a better option muesli bar to grab next time!
It is becoming increasingly apparent among the general population that protein is important for many aspects of our health, particularly during periods of growth such as children between the ages of 14 and 18. Protein is also an important nutrient for adults as it assists with recovery from training, cell growth and repair as well as helping with appetite control.
Luckily, the market for "protein-rich" foods is growing rapidly and a particularly convenient product are the high protein muesli bars. Muesli bars are already a widely consumed snack among all age groups, making it an easy way to include slightly more protein into your diet. Keep reading to hear about some of our top picks!
Nice and Natural Protein Whole-Seed Bars Cranberry and Raspberry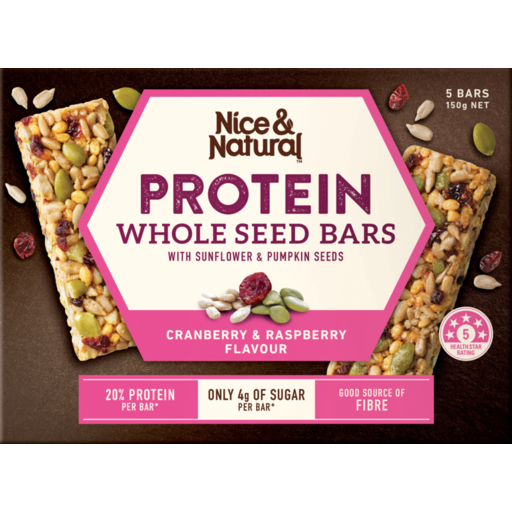 The protein sources in this bar include nuts and seeds (mostly sunflower seeds) and soy protein isolate. By using soy protein, those on a vegetarian and vegan diet are still able to consume the product. The bar also contains 4g of fibre which is something most of us don't get enough of in our diet – so what a great way to sneak some in! With 1 bar containing 7.3g of protein this is a pretty good option!
Nice and Natural Nut Butter Bars Peanut Butter with Real Milk Chocolate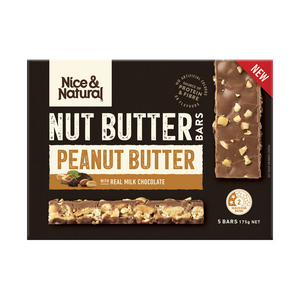 The bar contains 5.5g of protein, again coming from nuts, seeds, and soy protein. This bars list of ingredients is far longer than its counterpart above and has nearly double the amount of added sugar (7.7g). Although delicious, this bar should be consumed in moderation as a treat by both adults and children.
Nature Valley Salted Caramel Protein Bars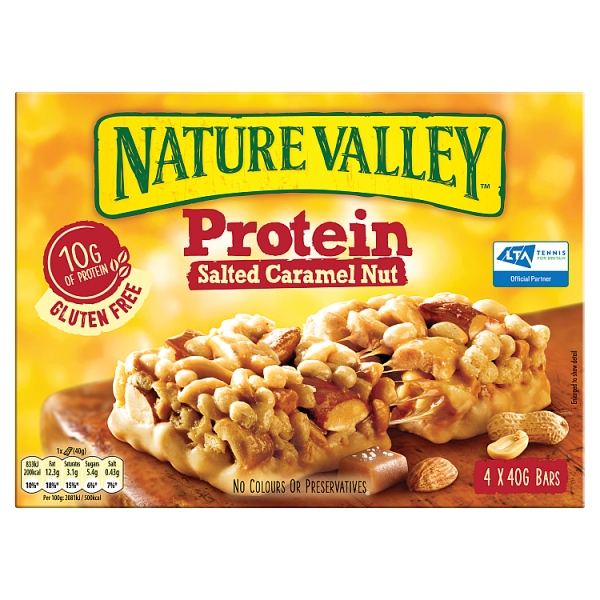 This brand has an array of products in the muesli bar aisle but has only recently come out with high protein options. The bar contains 5.5g of dietary fibre, giving the product some brownie points. With 10g of protein per bar, coming from roasted nuts (peanuts, almonds) and isolate soy protein as well as only 6g of sugar, this bar isn't a bad option for most people! It is also gluten free from those who are Coeliac or gluten intolerant.
Carmen's Protein Muesli Bars Coconut, Yoghurt and Roasted Nut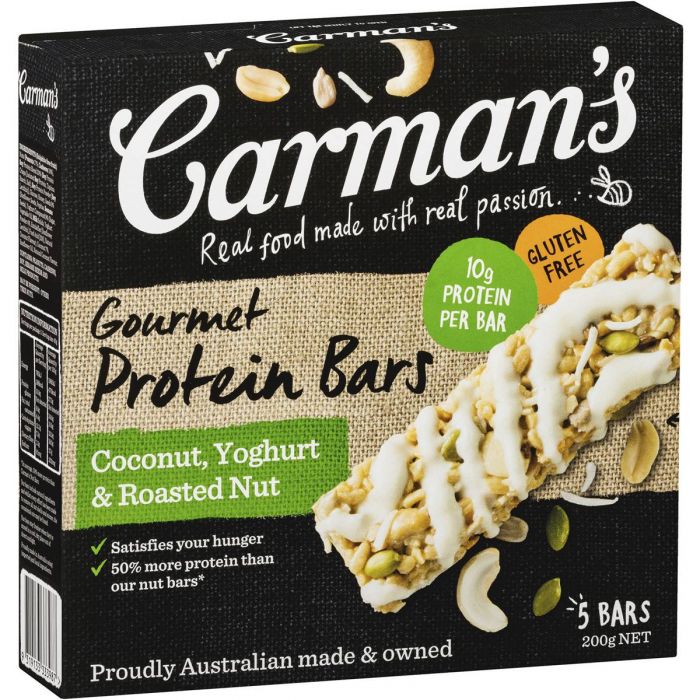 Carmen's have been in the muesli bar game for a long time, and their protein range doesn't disappoint. These bars have 10.2g of protein, and only 6g of sugars. The protein sources come from a soy protein blend, nuts and seeds (predominately peanuts and cashews). The bar contains minimal dietary fibre (1.4g) but paired with a piece of fruit for an afternoon snack – it is hard to fault!
I hope this article will help you in your next grocery venture! Keep an eye out for more product reviews and comparisons.