Pre-prepared packaged meals are highly convenient, but how 'healthy' are they?
That really depends on how often you consume them. If you only purchase them occasionally, you don't need to be too concerned as long as they are contributing toward your macros they are fine to eat. However if you have them regularly, there are some key nutrients that you should be looking at.
There are three main nutrients to compare across product nutrition panels to help you make the best choice:
Sodium – diets high in sodium have been associated with health conditions such as heart disease, kidney problems, osteoporosis and fluid retention (oedema). Try to choose those with a lower amount: <120mg (low) or <600mg (moderate) per 100g.
Saturated fat – some foods containing saturated fat may increase blood cholesterol levels, with high levels increasing the risk for cardiovascular disease. Try to choose meals with <1.5g (low or < 5g (moderate) per 100g.
Dietary fibre – essential for good gut health, it lowers the glycaemic load of a meal, supplying your body with a slower and steady stream of glucose from the carbohydrates you consume for refuelling. Choose meals with >5g of dietary fibre (high) or >3g (moderate) per 100g. If a meal doesn't meet this particular requirement, it probably isn't contributing much toward your daily serves of vegies. Add some vegies to bulk a meal up that meets the other requirements but falls short here. Steam packs and salad mixes are a quick and convenient way to do this.
The Australian Dietary Guidelines advise choosing foods that are high in dietary fibre, low in saturated fat,
with minimal or no added salt. All three can be difficult to find in pre-prepared meals, so we've done some of the hard work for you.
Following are some of the better pre-packaged meal options we found in a recent supermarket and online survey.
Beef
Core Powerfoods Deep South Chilli 350g (Frozen) RRP $9.00 Available from Coles, Woolworths, IGA & online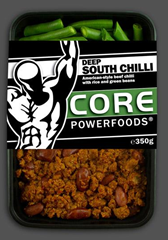 | | |
| --- | --- |
| Energy (cals/serve) | 415 |
| Protein (g/serve) | 40 |
| Carbohydrate (g/serve) | 43.1 |
| Sugar (g/serve) | 9.8 |
| Sodium (mg/serve) | 216 |
| Dietary fibre (g/serve) | Unavailable |
| Saturated fat (g/serve) | 2.1 |
Core Powerfoods Holy Meatballs 350g (Frozen) RRP $9.00 Available from Coles, Woolworths, IGA & online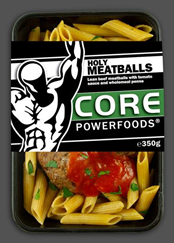 | | |
| --- | --- |
| Energy (cals/serve) | 442 |
| Protein (g/serve) | 48.8 |
| Carbohydrate (g/serve) | 35.8 |
| Sugar (g/serve) | 7.1 |
| Sodium (mg/serve) | 398 |
| Dietary fibre (g/serve) | Unavailable |
| Saturated fat (g/serve) | 2.5 |
Core Powerfoods Smokey Mountain Meatballs 350g (Frozen) RRP $9.00 Available from Coles, Woolworths, IGA & online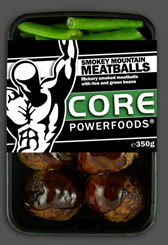 | | |
| --- | --- |
| Energy (cals/serve) | 461 |
| Protein (g/serve) | 44.8 |
| Carbohydrate (g/serve) | 51.8 |
| Sugar (g/serve) | 21.6 |
| Sodium (mg/serve) | 390 |
| Dietary fibre (g/serve) | Unavailable |
| Saturated fat (g/serve) | 2.1 |
Fitness Outcomes Beef Chilli Con Carne 350g (Chilled) RRP $9.00 Available from Coles, Woolworths & online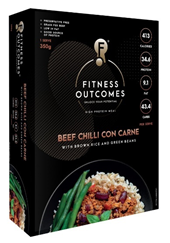 | | |
| --- | --- |
| Energy (cals/serve) | 413 |
| Protein (g/serve) | 34.6 |
| Carbohydrate (g/serve) | 43.4 |
| Sugar (g/serve) | 4.2 |
| Sodium (mg/serve) | 529 |
| Dietary fibre (g/serve) | 7.7 |
| Saturated fat (g/serve) | 3.5 |
Lean Cuisine 5 Hour Slow Cooked Beef with Veg and Grains 350g (Frozen) RRP $8.50 Available from Coles, Woolworths & IGA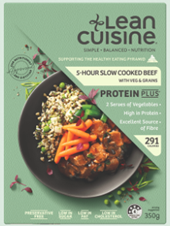 | | |
| --- | --- |
| Energy (cals/serve) | 291 |
| Protein (g/serve) | 26.3 |
| Carbohydrate (g/serve) | 32.6 |
| Sugar (g/serve) | 3.5 |
| Sodium (mg/serve) | 847 |
| Dietary fibre (g/serve) | 7.0 |
| Saturated fat (g/serve) | 1.1 |
Lamb
Lean Cuisine Lamb & Rosemary Hotpot 280g RRP $4.50 Available from Coles, Woolworths & IGA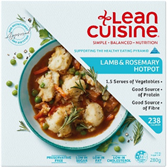 | | |
| --- | --- |
| Energy (cals/serve) | 238 |
| Protein (g/serve) | 10.1 |
| Carbohydrate (g/serve) | 29.7 |
| Sugar (g/serve) | 6.2 |
| Sodium (mg/serve) | 683 |
| Dietary fibre (g/serve) | 4.8 |
| Saturated fat (g/serve) | 1.7 |
Super Nature Superfood Meal Slow Cooked Lamb Ragu 350g (Frozen) RRP $6.30 Available from Coles, Woolworths & IGA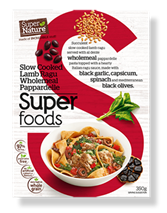 | | |
| --- | --- |
| Energy (cals/serve) | 325 |
| Protein (g/serve) | 18.8 |
| Carbohydrate (g/serve) | 38.1 |
| Sugar (g/serve) | 6.2 |
| Sodium (mg/serve) | 641 |
| Dietary fibre (g/serve) | Unavailable |
| Saturated fat (g/serve) | 2.8 |
Youfoodz Lamb Risoni Power Bowl 306g (Chilled) RRP $9.95 Available from Coles, Woolworths, IGA, 7-11, BP Connect, Coles Express, Enhance Petroleum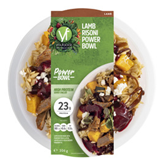 | | |
| --- | --- |
| Energy (cals/serve) | 392 |
| Protein (g/serve) | 23.4 |
| Carbohydrate (g/serve) | 43.0 |
| Sugar (g/serve) | 14.7 |
| Sodium (mg/serve) | 249 |
| Dietary fibre (g/serve) | 3.9 |
| Saturated fat (g/serve) | 2.4 |
Pork
Lean Cuisine Slow Cooked Glazed Pork with Parisian Carrots and Mash 350g RRP $8.50 Available from Coles, Woolworths, & IGA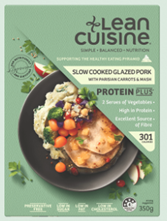 | | |
| --- | --- |
| Energy (cals/serve) | 301 |
| Protein (g/serve) | 25.2 |
| Carbohydrate (g/serve) | 31.5 |
| Sugar (g/serve) | 10.2 |
| Sodium (mg/serve) | 795 |
| Dietary fibre (g/serve) | 8.1 |
| Saturated fat (g/serve) | 2.5 |
Chicken
Simply Super Bowl of Goodness Chicken Satay & Wild Rice Mix 350g (Frozen) RRP $3.99 Available from Aldi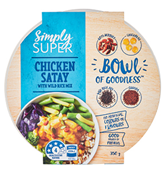 | | |
| --- | --- |
| Energy (cals/serve) | 382 |
| Protein (g/serve) | 22.4 |
| Carbohydrate (g/serve) | 46.9 |
| Sugar (g/serve) | 9.1 |
| Sodium (mg/serve) | 634 |
| Dietary fibre (g/serve) | 10.5 |
| Saturated fat (g/serve) | 3.2 |
Super Bowl of Goodness Butter Chicken & Ancient Grains 350g (Frozen) RRP $3.99 Available from Aldi
| | |
| --- | --- |
| Energy (cals/serve) | 336 |
| Protein (g/serve) | 16.8 |
| Carbohydrate (g/serve) | 38.9 |
| Sugar (g/serve) | 6.0 |
| Sodium (mg/serve) | 791 |
| Dietary fibre (g/serve) | 8.8 |
| Saturated fat (g/serve) | 4.6 |
Core Powerfoods Chipotle Chicken 350g (Frozen) RRP $9.00 Available from Coles, Woolworths, IGA & online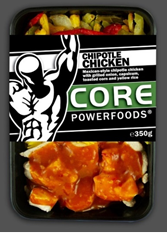 | | |
| --- | --- |
| Energy (cals/serve) | 389 |
| Protein (g/serve) | 40.6 |
| Carbohydrate (g/serve) | 37.3 |
| Sugar (g/serve) | 5.6 |
| Sodium (mg/serve) | 315 |
| Dietary fibre (g/serve) | Unavailable |
| Saturated fat (g/serve) | 1.8 |
Core Powerfoods Going Nuts Crunchy Satay Chicken 350g (Frozen) RRP $9.00 Available from Coles, Woolworths, IGA & online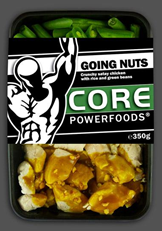 | | |
| --- | --- |
| Energy (cals/serve) | 494 |
| Protein (g/serve) | 47.8 |
| Carbohydrate (g/serve) | 46.0 |
| Sugar (g/serve) | 6.8 |
| Sodium (mg/serve) | 385 |
| Dietary fibre (g/serve) | Unavailable |
| Saturated fat (g/serve) | 2.8 |
Fitness Outcomes Portuguese Chicken 350g (Frozen) RRP $9.00 Available from Coles, Woolworths, & online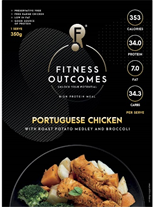 | | |
| --- | --- |
| Energy (cals/serve) | 335 |
| Protein (g/serve) | 34.0 |
| Carbohydrate (g/serve) | 34.3 |
| Sugar (g/serve) | 12.3 |
| Sodium (mg/serve) | 487 |
| Dietary fibre (g/serve) | 6.7 |
| Saturated fat (g/serve) | 1.8 |
Super Nature Super Pulses Lemon Ginger Chicken 300g (Frozen) RRP $4.00 Available from Coles, Woolworths, & IGA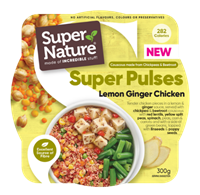 | | |
| --- | --- |
| Energy (cals/serve) | 282 |
| Protein (g/serve) | 15.6 |
| Carbohydrate (g/serve) | 46.2 |
| Sugar (g/serve) | 15.3 |
| Sodium (mg/serve) | 699 |
| Dietary fibre (g/serve) | 9.9 |
| Saturated fat (g/serve) | 0.6 |
Youfoodz Chicken Sweet Potato & Broccoli 300g (Chilled) RRP $9.95 Available from Coles, Woolworths, IGA, 7-11, BP Connect, Coles Express, Enhance Petroleum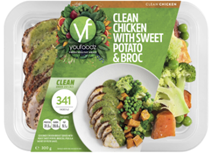 | | |
| --- | --- |
| Energy (cals/serve) | 349 |
| Protein (g/serve) | 30.9 |
| Carbohydrate (g/serve) | 29.1 |
| Sugar (g/serve) | 13.8 |
| Sodium (mg/serve) | 214 |
| Dietary fibre (g/serve) | 8.3 |
| Saturated fat (g/serve) | 1.8 |
Fish
Super Nature Super Pulses Wholemeal Sicilian Tuna Bake 300g (Frozen) RRP $4.00 Available from Coles, Woolworths, & IGA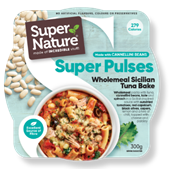 | | |
| --- | --- |
| Energy (cals/serve) | 279 |
| Protein (g/serve) | 15.3 |
| Carbohydrate (g/serve) | 38.4 |
| Sugar (g/serve) | 11.7 |
| Sodium (mg/serve) | 624 |
| Dietary fibre (g/serve) | 7.8 |
| Saturated fat (g/serve) | 1.3 |
Youfoodz Salmon Fettucine 370g (Chilled) RRP $9.95 Available from Coles, Woolworths, IGA, 7-11, BP Connect, Coles Express, Enhance Petroleum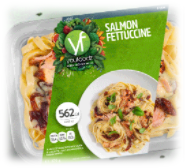 | | |
| --- | --- |
| Energy (cals/serve) | 562 |
| Protein (g/serve) | 35.4 |
| Carbohydrate (g/serve) | 52.0 |
| Sugar (g/serve) | 13.4 |
| Sodium (mg/serve) | 618 |
| Dietary fibre (g/serve) | 5.3 |
| Saturated fat (g/serve) | 6.6 |
Vegan
Lean Cuisine Spiced Cauliflower Lentils & Cous Cous Available from Coles, Woolworths, & IGA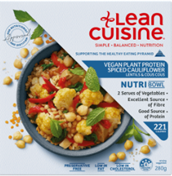 | | |
| --- | --- |
| Energy (cals/serve) | 221 |
| Protein (g/serve) | 13.7 |
| Carbohydrate (g/serve) | 35.3 |
| Sugar (g/serve) | 5.6 |
| Sodium (mg/serve) | 560 |
| Dietary fibre (g/serve) | 10.6 |
| Saturated fat (g/serve) | 0.8 |
Super Nature Super Vegan Wellness Bowl Vegan Sri Lankan Curry 350g (Frozen) RRP $6.30 Available from Coles, Woolworths, & IGA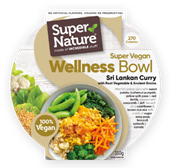 | | |
| --- | --- |
| Energy (cals/serve) | 270 |
| Protein (g/serve) | 11.6 |
| Carbohydrate (g/serve) | 36.4 |
| Sugar (g/serve) | 8.4 |
| Sodium (mg/serve) | 473 |
| Dietary fibre (g/serve) | 8.1 |
| Saturated fat (g/serve) | 4.6 |
Youfoodz Loaded Lentil Lasagne 300g (Chilled) RRP $9.95 Available from Coles, Woolworths, IGA, 7-11, BP Connect, Coles Express, Enhance Petroleum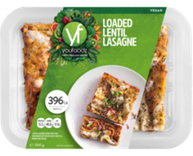 | | |
| --- | --- |
| Energy (cals/serve) | 396 |
| Protein (g/serve) | 11.2 |
| Carbohydrate (g/serve) | 46.0 |
| Sugar (g/serve) | 10.4 |
| Sodium (mg/serve) | 454 |
| Dietary fibre (g/serve) | 3.9 |
| Saturated fat (g/serve) | 5.4 |
Vegetarian
Super Nature Super foods Split Pea & Lentil Dahl 350g (Frozen) RRP $6.30 Available from Coles, Woolworths, & IGA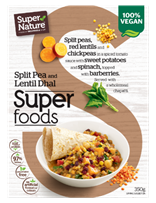 | | |
| --- | --- |
| Energy (cals/serve) | 434 |
| Protein (g/serve) | 21.0 |
| Carbohydrate (g/serve) | 61.6 |
| Sugar (g/serve) | 8.8 |
| Sodium (mg/serve) | 826 |
| Dietary fibre (g/serve) | 13.0 |
| Saturated fat (g/serve) | 2.8 |
Youfoodz Mango & Sweet Potato Tagine 350g (Chilled) Available from Coles, Woolworths, IGA, 7-11, BP Connect, Coles Express, Enhance Petroleum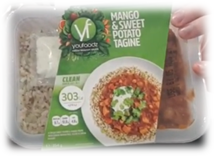 | | |
| --- | --- |
| Energy (cals/serve) | 303 |
| Protein (g/serve) | 9.7 |
| Carbohydrate (g/serve) | 51 |
| Sugar (g/serve) | 14 |
| Sodium (mg/serve) | 968 |
| Dietary fibre (g/serve) | 6.9 |
| Saturated fat (g/serve) | 1.8 |