Brrr… it's cold outside, its winter, and you're struggling for ideas on what to eat for lunch. Does this sound like you? Well you are not alone!
To understand why we should be eating lunch and for delicious winter lunch recipes that are quick and easy to throw together, tick all the nutritional boxes AND provide warmth and comfort during those cold winter months, keep reading this article.
Did you know that the lunch meal is just as important as the breakfast and dinner meal? The lunch meal provides an opportunity to increase our daily serves of vegetables supporting our bodies with the nutrients that it needs to function. However, the lunch meal is often forgotten or rushed. Particularly during the cooler months when lunch ideas can be more challenging.
Enjoying a balanced meal at lunch with a source of carbohydrates, protein and fats is essential to help with sustained energy throughout the remainder of the day. The lunch meal also helps to improve performance, whether it be our concentration at work, or supporting physical activity.  A balanced lunch will keep you full and satisfied, preventing endless snacking during the afternoon.
One simple method for understanding how to prepare and build a balanced meal is the plate model. On the plate you can see half (50%) the plate should is filled with plenty of non-starch vegetables e.g. broccoli, lettuce, tomato, carrot, One-quarter (25%) of the plate is filled with a quality protein source e.g. lean beef mince, chicken breast, salmon or tofu and lastly, one-quarter (25%) filled with a source of low glycaemic index (GI) carbohydrates e.g. wholegrain bread, long grain (basmati) rice, quinoa, legumes or sweet potato.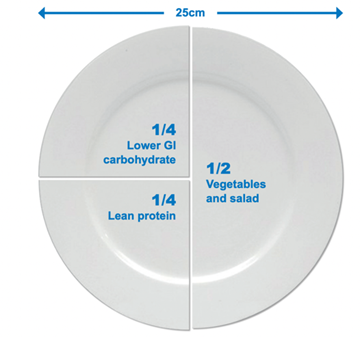 While planning a healthy and balanced lunch meal my involve slightly more preparation, it is not without its benefits. Some research has shown that individuals who spend more time preparing meals at home (> 2hours/day) had a significantly greater intake of fruit (excluding fruit juice) and vegetables, while also saving money from less eating out and restaurant visits, than those who spent less time preparing meals (<1hour/day) (1).
To help you prepare this Winter we've put together three simple and delicious lunch ideas which provide a balanced meal, are quick to prepare, and store well in an airtight container to be enjoyed during the week for convenience. As well as this, we've complied is a list of winter lunch ideas which involve minimal to no preparation or cooking for those 'on the go' days (you're welcome).
Reference:
1: doi:10.1016/j.amepre.2014.07.033.
Broccoli Slice – serves 8
Ingredients
150g broccoli, finely chopped
½ brown onion, finely chopped
100g grated cheese (light)
420g corn kernels, drained
1 cup self-raising flour
8 whole eggs
½ cup milk
Fresh parsley
Salt and pepper to taste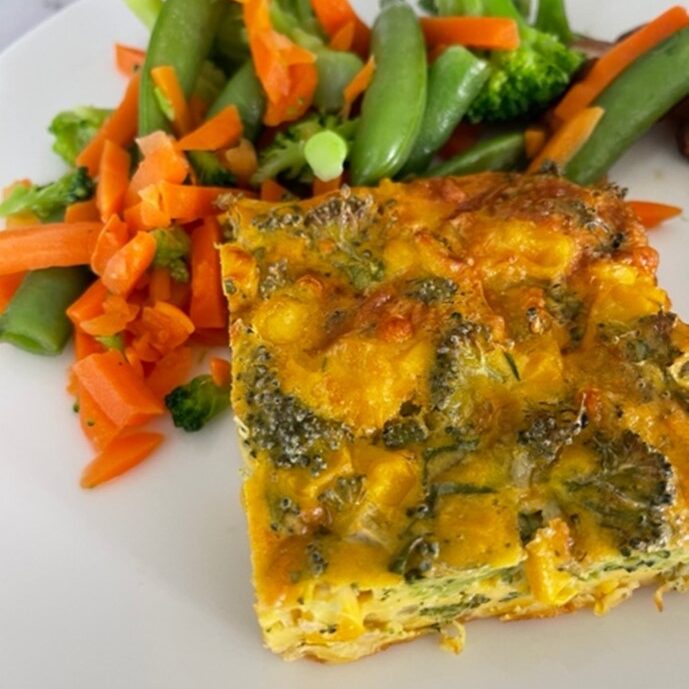 Methods
1: Preheat oven to 180°C (160°C fan-forced).
2: In a large bowl, combine broccoli, onion, cheese, corn and sifted flour,.
3: In a separate bowl, combine eggs and milk, beat lightly
4: Pour egg mixture over other ingredients and mix well. Season with salt and pepper.
3: Pour into a lined baking tray.
4: Bake for about 30 minutes, or until well browned.
5: Cut into squares and garnish with parsley, if desired.
6: Serve with a side of vegetables or salad
Honey Sesame Chicken Lunch Bowls – serves 4
Ingredients
Honey sesame sauce
¼ cup reduce sodium chicken stock
¼ cup reduced sodium soy sauce
¼ cup honey
1 tablespoon sesame oil
½ teaspoon chilli flakes
1 teaspoon corn starch
Chicken lunch bowls
4 microwave rice cups
4 frozen vegetable steam packs
500g – 600g chicken breast, cut into cubes
Salt and pepper
Sesame seeds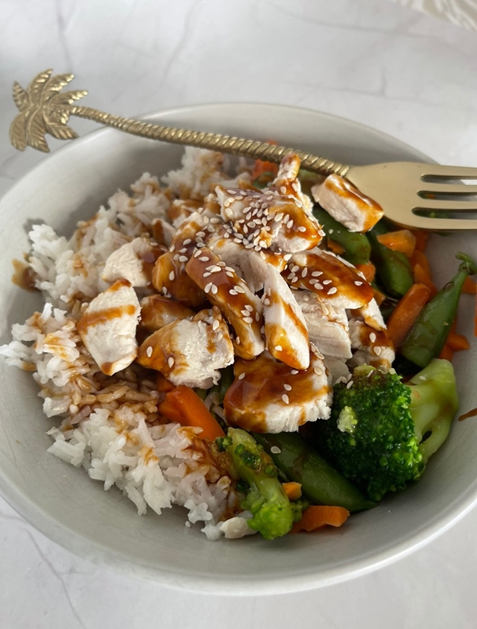 4 lunch containers
Methods
1: In a small bowl, mix all the honey sesame sauce ingredients and set aside
2: Add 1 tablespoon olive oil to a saucepan and cook chicken for 7-10 minutes, until cooked through
3: once chicken cooked, add to a bowl and set aside
4: In the saucepan, add the honey sesame sauce and simmer for 2 minutes, until thickens
5: Heat the rice cups and vegetable steam pack in the microwave, serve with the chicken
6: Drizzle desired amount of sauce over the chicken and garnish with sesame seeds
7: Should make approximately four serves. Store in the fridge for four days and reheat to serve
With thanks to 'Sweet peas and Saffron' for the inspiration of this recipe.
Warm Tuna Pasta Salad – serves 4
Ingredients
340g Barilla Farfalle pasta
4 x 90g cans tuna in oil
400g frozen (or canned drained) corn kernels
1 medium red capsicum, sliced thinly
1 small red onion, sliced thinly
2 sticks celery, sliced thinly
1/4 cup chopped fresh flat-leaf parsley
1/4 cup (75g) reduced fat mayonnaise
1 tablespoon plain yoghurt
1 clove garlic, crushed
2 teaspoon finely grated lemon rind
2 tablespoon lemon juice
2 tablespoon seeded mustard
salt and freshly ground black pepper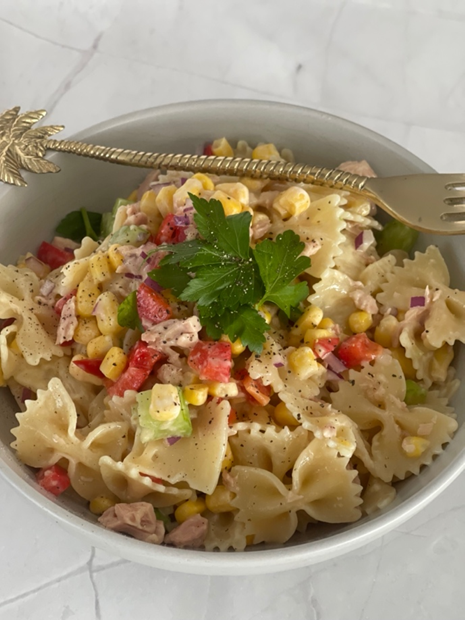 Methods
1: Cook pasta in a large saucepan of boiling salted water until just tender, drain.
2: Meanwhile, drain tuna, reserve 2tbsp of the oil. Combine pasta, tuna, corn, capsicum, onion, celery and parsley in a large bowl.
3: Combine mayonnaise, yoghurt, garlic, rind, juice, mustard and reserved tuna oil in a small bowl or jug.
4: Add to pasta mixture, toss gently. Season to taste with salt and pepper before serving.
Minimal prep lunch meal ideas:
Tuna and Rice
In the microwave heat a cup of rice, frozen vegetable steam pack and serve with a tin of tuna (90g)
Chicken soup and grainy bread
'LaZuppa' soup range, reheat chicken veg & wholegrain soup in the microwave and serve with a slice of wholegrain bread
Warm potato salad
Reheat steam pack of potatoes (Woolworths simply steam baby white potatoes) and two boiled eggs, serve with ready-made salad pack
Baked beans on grainy toast
Two slices of wholegrain bread with a tin (150g) baked beans (reduced salt if possible)
Chickpea buddha bowl
In the microwave heat a cup of quinoa, serve with a ready-made pack of salad and a small tin of chickpeas (Edgell Snack Time Chickpeas 70g)
Chicken and rice
In the microwave heat a cup of rice, frozen vegetable steam pack and serve with ready to eat chicken breast ( Brand: 'Coles', 'Moira Mac's')
If you need more great recipe ideas, check out the Embody Membership for access to our entire recipe library.